Pakistan Vs Indian: Flour, lentils, rice and sugar have also become red in Pakistan. The Pakistani people are starving. There is a crisis in Pakistan, which dreams of getting Kashmir. The situation is that flour is also being sold here at Rs 200 per kg and even more. Pakistan's situation is going to be worse than Sri Lanka. Pakistan is begging for bowls all over the world to save its people from hunger. But in The India that Pakistan dreams of equalizing, flour is only 30 to 35 rupees per kg and the economy is also in a strong position.
Not only this, there is a person in India who has been feeding hundreds of people like a 3 star hotel for just Rs 5 every day for the last 8 years. At the same time, people in Pakistan are starving. That is why this person from India is being praised in the country and the world. Amitabh Bachchan, the superstar of the century, is also convinced of him. Let us tell you who are these people who give the best quality food in India for just 5 rupees and why and how are they able to provide such cheap food in this era of inflation?
Anup Khanna, who has made headlines many times around the world including India, is named Anup Khanna, who has been running "Dadi Ki Rasoi" in Sector 29 in Noida, Uttar Pradesh for nearly 8 years. He is a resident of Sector 47. For just Rs 5, "Dadi Ki Rasoi" offers desi ghee-tashed arhar dal, mixed veg, dal makhani, pea-paneer, chickpeas, rajma, basmati rice, tawa rotis, fruits, biscuits, trees, rasgullas, jaggery etc. The special thing is that the menu of "Grandmother's Kitchen" keeps changing daily. The quality of the food is so good that the food officials of the Food Safety and Standards Authority of India department have given an "A grade" certificate after self-taste for surprise inspection here. The special thing is that Anoop Khanna does not run any trust for this, rather he has been doing it on his own.
Honored at Rashtrapati Bhavan

Anup Khanna not only gives food for Rs 5, but he also gives clothes to the needy for Rs 10 and cheap medicines to the sick from his Pradhan Mantri Jan Aushadhi Store. His goal is to give "bread, cloth and medicine" to the needy, which he has been doing for 8 years. On the question of charging Rs 5 for food, Anup Khanna says that if he wanted, he could have given free food to people. But they take 5 rupees so that the self-respect of every person who comes here is alive. If food was given for free, many needy people would hesitate to eat here. But by giving 5 rupees, their self-respect remains alive.  In "Dadi Ki Rasoi", he teaches food as well as discipline to people, here every person has to stand in line to get food.
Impressed by these performances, Anoop Khanna has been honored by calling him to Rashtrapati Bhavan about 3 times. From Noida MLA Pankaj Singh to former Union Minister and Lok Sabha member Dr Mahesh Sharma, former CEO of Noida Authority Ramaraman and many other senior officers and leaders have also served in line in dadi's kitchen.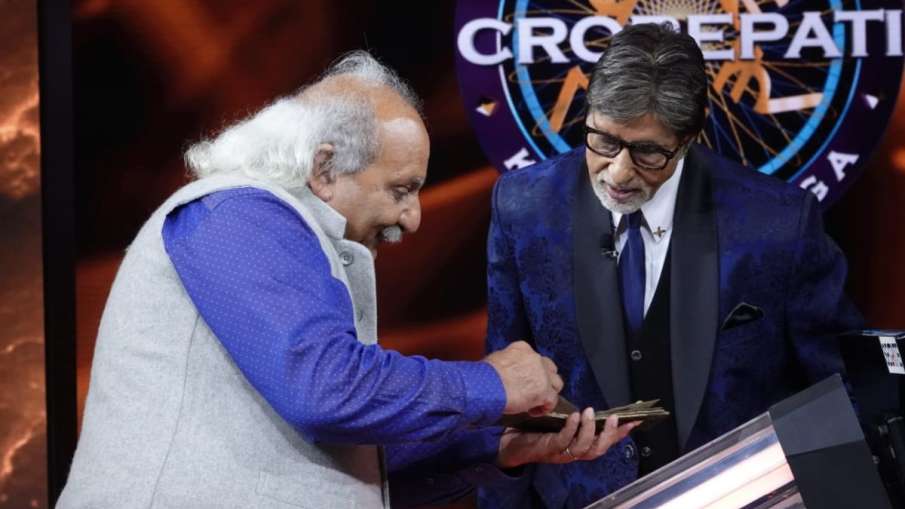 Anup Khanna with Amitabh Bachchan (File Photo)
Amitabh Bachchan is also convinced.

In this era of inflation, where tea is not available for 5 rupees, Amitabh Bachchan is also convinced of Anup Khanna for giving quality food like a 3 star hotel for just Rs 5. Amitabh Bachchan has also praised Anoop Khanna in Kaun Banega Crorepati. Amitabh gave him the title of "Annadata" and "Annapurna". The special thing about Anup Khanna is that he can be seen serving food to people with his own hands every day. They do this with a sense of service.
He says that many boys have also been hired to serve food, but he does not sleepless nights until he does car service with his own hands. He started "Grandma's Kitchen" at his mother's will. Anup Khanna has also been invited by the Government of India to Rashtrapati Bhavan to discuss the model of saving people from hunger and poverty across the country. Anoop Khanna is being praised on social media amidst the chaos in Pakistan.
Latest World News